SLO police chief under fire for incriminating tweet
September 12, 2018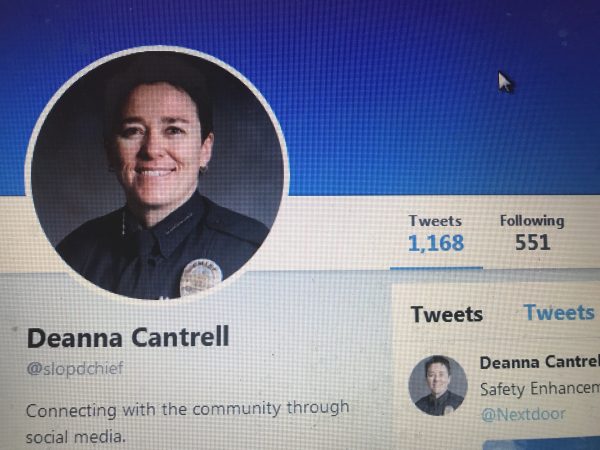 By KAREN VELIE
San Luis Obispo Police Chief Deanna Cantrell's Twitter page has brought a lot of people deemed suspects into the center of attention. The most recent is a long-time city business owner who the chief's Twitter page listed as a suspected counterfeiter along with his photo. [Cal Coast Times]
On Sept. 7, the man and his 20-year-old daughter purchased several items at the Chevron Station on Broad Street. Later that evening, a SLO restaurant owner discovered a female patron had paid him with two counterfeit $20 bills.
The woman told officers a clerk at the Chevron Station had given her the two counterfeit bills. Officers then pulled the stations video feed, and posted a photo of the man who had been the last customer who paid cash for items before the woman made her purchase.
On Sept. 8, KSBY aired the photo of the man along with the allegation he had been accused of counterfeiting, which generally means the man had been charged. Meanwhile, multiple people called the man to ask him about the criminal accusation. The man has asked that his name not be used in order to protect his business interests and his privacy.
After the man's fiance made multiple requests to the chief to take the accusatory tweet off the internet, on Sept. 9, a tweet posted noting the man had been cleared of any wrongdoing, while the tweet listing him as a suspect remained online.
"The man in the photo was identified and interviewed," the tweet says. "Through our investigation we have determined he did not knowingly pass the counterfeit bills and no charges will be filed. Thanks for your assistance in helping clear him of any wrongdoing!"
The tweet listing the man as a suspected counterfeiter remained on the chief's Twitter page until earlier today. Shortly after the man's attorney asked the department to remove the false allegation, the tweet was removed.
"I am floored that this is the type of detective work we have in this town," the fiance said. "Meanwhile, my husband's photo is all over the internet. They should have said he was a witness to a crime. They should not be posting that he is a suspect. I would really like an apology."