Neighbor shoots Santa Maria father over toddlers making noise
October 28, 2018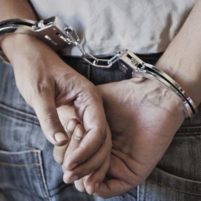 Angry over noises coming from two young children in an upstairs apartment, a Santa maria man allegedly shot the children's father on Saturday. [KCOY]
Shortly before 2 p.m., the currently unnamed assailant began banging on the ceiling of his apartment at the Oak Creek Villas complex on McCoy Lane. Elise Shems, the mother of a one-year-old son and a three-year-old daughter, went downstairs to confront her neighbor.
Elise Shems's husband intervened and she headed back upstairs. Shortly afterwards, her husband ran back upstairs bleeding from a gun shot wound to his hand.
After a short standoff, officers arrested the suspect.