Tanker truck overturns on Highway 101, spill leads to closure
October 25, 2018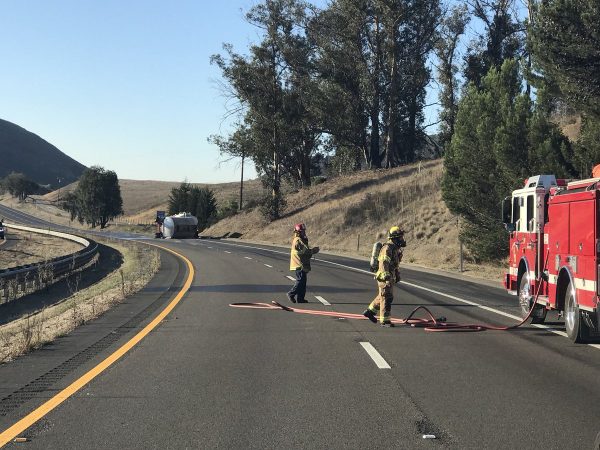 A tanker truck crashed, overturned and spilled a liquid on Highway 101 around the southern edge of San Luis Obispo Thursday morning, leading to a multi-hour freeway closure and traffic pileup. [Cal Coast Times]
Shortly before 8 a.m., the tanker truck overturned on southbound Highway 101 south of Los Osos Valley Road. The truck was blocking both lanes of the highway after overturning.
Authorities closed southbound Highway 101 as crews moved the truck and cleaned up the liquid that spilled. Traffic backed up to Madonna Road, and vehicles were rerouted to Los Osos Valley Road and South Higuera Street.
Likewise, authorities ordered an evacuation of the nearby Johnson Ranch Open Space. Eventually, it was determined that the substance that spilled was not hazardous.
Highway 101 reopened in the early afternoon. No one suffered injuries as a result of the incident.