Investigators close in on source of water pollution near SLO airport
November 30, 2018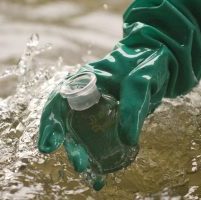 A few years after the Central Coast Regional Water Quality Control Board discovered 12 wells near SLO County Regional Airport contained levels of trichloroethylene (TCE) that exceeded state limits, investigators appear to have discover the site, if not the source, of the pollution. [Cal Coast Times]
TCE is a colorless, volatile nonflammable liquid that the aircraft industry previously used and then phased out in the 1970s because of its toxicity. Initially, it was suspected the airport may have been the source of the TCE pollution, and a group of residents filed legal action against the county alleging that was the case.
The county then conducted an investigation into whether the airport was the source of the TCE found in the groundwater. The investigation, which concluded in Sept. 2016, found no evidence of anything related to the airport being the source of the pollution, according to the regional water board.
Water board staff then determined the source of the TCE was likely near Thread Lane. Water board staff required three Thread Lane business property owners to partake in environmental investigations and submit reports summarizing the results by May 2017.
Two of the three property owners complied, and the reports showed no evidence of anything beneath their properties being the source of TCE.
The third property owner claimed financial hardship and applied for a grant under a State Water Board groundwater quality funding program in order to perform the investigative work. The grant was awarded, and in Aug. and Sept. 2018, the property owner conducted soil, soil gas and groundwater testing.
Groundwater samples associated with the investigation detected an elevated TCE concentration of 783 micrograms per liter below the property, or 156 times higher than EPA standards for drinking water.
The New Times reports the property with the elevated TCE levels is located at 4665 Thread Lane. Previous reports indicate the property has housed a machine shop that has been operating since the 1960s and may have previously used industrial solvents.
Water board staffers are reviewing their findings to determine if any additional investigations are needed. Currently, three groundwater monitoring wells are planned in order to determine the extent of the elevated TCE concentrations.