Key local races to watch in SLO County
November 6, 2018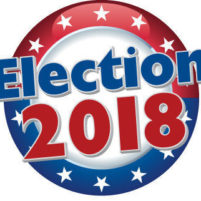 By JOSH FRIEDMAN
While it may not amount to "Judgement Day," as the 2018 midterms have been dubbed by some media, Election Day in San Luis Obispo County does consist of several competitive mayoral and council races, as well as a heavily funded battle over a proposal to ban fracking and new oil wells. [Cal Coast Times]
Notable among local races, Arroyo Grande Councilwoman Caren Ray is challenging Mayor Jim Hill for the South County city's mayoral seat. Likewise, Paso Robles Councilman Jim Reed is challenging incumbent Mayor Steve Martin in the North County city.
In San Luis Obispo, former councilman and critic of current city policy, Keith Gurnee, is running against incumbent SLO Mayor Heidi Harmon. Frequent mayoral candidate Don Hedrick is also on the ballot, making it a three-way race.
Grover Beach, too, has a three-way race for mayor, with council members Jeff Lee and Debbie Peterson squaring off, and candidate Liz Doukas also vying for the seat. In Morro Bay, Mayor Jamie Irons is stepping aside, and Councilman John Headding and Coast Electronics owner John Weiss are battling to replace him.
A host of candidates are running in the very competitive San Luis Obispo, Arroyo Grande and Morro Bay council races.
Councilwoman Carlyn Christianson is the lone incumbent in the SLO council race. She is running in a field of eight that includes homemaker Sarah Flickinger, nonprofit director Abe Lincoln, retired county planner James Lopes, entrepreneur Jeffery Specht, administrator Erica Stewart and community volunteer Bob Voglin.
The Arroyo Grande and Morro Bay council races each consist of five candidates, with not a single incumbent running.
Candidates running for Arroyo Grande council are: Coleen Kubel, John Mack, Jimmy Paulding, Terry Fowler-Payne and retired SLO police captain Keith Storton. Kubel is currently an architectural review commissioner in Arroyo Grande, and Mack serves on the city planning commission. Paulding narrowly lost a bid earlier this year to unseat District 4 County Supervisor Lynn Compton.
Dawn Addis, Jesse Barron, Jan Goldman, Jeff Heller and Betty Winholtz are vying for seats on the Morro Bay council. Winholtz has previously served on the Morro Bay council. Addis has garnered attention during the current two-year election cycle for leading the Women's March San Luis Obispo.
In Grover Beach, incumbents Barbara Nicolls and Mariam Shah are running for reelection, with electrical contractor Robert Robert being the only challenger in the race.
No incumbents are running for city council in Atascadero, though Councilwoman Heather Moreno is running unopposed for mayor. Planning Commissioner Mark Dariz, businesswoman Susan Funk and parks commissioner Heather Newsom are competing for the two open Atascadero council seats.
In Paso Robles, Councilman John Hamon is running for reelection. The Paso Robles council race also includes pharmacy technician Maria Elena Garcia, businessman Andy Pekema and businessman Michael Rivera.
Pismo Beach does not have a competition in its mayoral or council race. Mayor Ed Waage, and councilwomen Sheila Blake and Mary Ann Reiss do not have challengers.
With heated rhetoric on both sides of the campaign and oil companies contributing several million dollars in an attempt to defeat the initiative, San Luis Obispo County's Measure G is gaining considerable attention. Measure G calls for a ban on new oil wells in unincorporated areas of SLO County, as well as a ban on hydraulic fracturing, or fracking.
If the initiative were to pass, property owners would be allowed to continue operating existing oil wells, which would become nonconforming uses in county code. Fracking is not currently occurring in SLO County, though the ballot measure text states it might be used in the future to extract oil from the Monterey shale formation in the future.
An unlikely scenario, as fracking is used when oil deposits are a minimum of 10,000 feet below ground and in SLO County most oil wells are between 1,000 to 2,000 feet below ground, according to the Bureau of Land Management.