PG&E stock price plummets as lawsuit threats mount over Camp Fire
November 15, 2018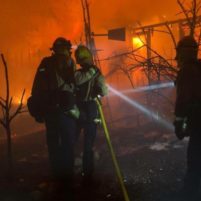 With PG&E facing the possibility of a determination that its equipment started the ongoing Camp Fire, now the deadliest blaze in California history, lawsuits are being prepared and the utility's stock price is plummeting. [Cal Coast Times]
PG&E's stock price plunged more than 21 percent Wednesday, one day after the utility submitted a filing with Securities and Exchange Commission (SEC) stating it may struggle to weather the financial blow if its equipment is deemed the cause of the Camp Fire. Over the last week, the PG&E stock price has plummeted from about $49 a share to about $25, and it fell as low as $23 on Wednesday.
"While the cause of the Camp Fire is still under investigation, if the utility's equipment is determined to be the cause, the utility could be subject to significant liability in excess of insurance coverage that would be expected to have a material impact on PG&E Corporation's and the Utility's financial condition, results of operations, liquidity and cash flow," PG&E stated in the SEC filing.
The Camp Fire started on the morning of Nov. 8 in an area of Butte County where PG&E had reported an outage. The blaze has burned 135,000 acres and is 35 percent contained.
As of Wednesday, the death toll of the Camp Fire has risen to 56. In addition to becoming the deadliest blaze in state history, the Camp Fire has also become the most destructive in terms of number of structures destroyed, having already destroyed 7,600 homes.
Investigators have yet to determine the cause of the blaze.
Recently adopted state legislation allows California utilities to bill their customers in order to fund legal settlements stemming from destructive wildfires that occurred in 2017. The new law also applies to future wildfires, starting next year, but it does not shield utilities from the potential financial impact of settlements over 2018 wildfires.
The law aimed to prevent utilities, like PG&E, from entering bankruptcy as a result of being found responsible for starting major wildfires. PG&E now stands accused of having started multiple recent wildfires, though the allegations are, at least not yet, backed by official findings.