Wildfires ravage Ventura County shortly after mass shooting
November 9, 2018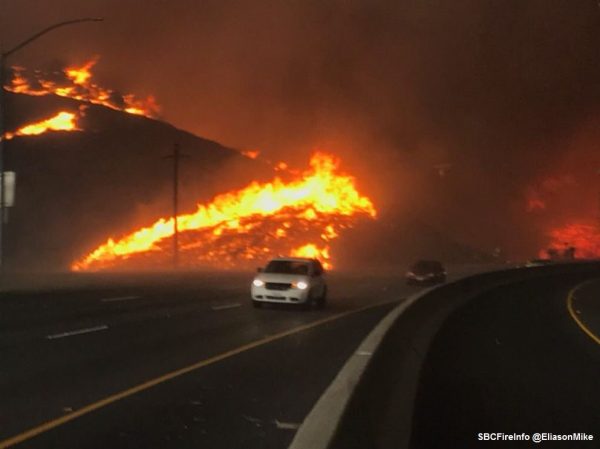 Just hours after a mass shooting in Thousand Oaks left 13 people dead, two wildfires broke out in Ventura County, resulting in numerous evacuation orders, as well as burned or damaged structures and Highway 101 closures. [Cal Coast Times]
Shortly after 2 p.m., approximately five miles away from the scene of the late Wednesday night shooting at the Borderline Bar & Grill, a blaze dubbed the Hill Fire broke out Thursday in the Hill Canyon area near Newbury Park. The fire has burned 8,000 to 10,000 acres in the Santa Rosa Valley, according to Cal Fire.
At approximately 2:24 p.m., a brush fired dubbed the Woolsey Fire started east of Simi Valley in Woolsey Canyon. As of early Friday morning, the Woolsey Fire has burned 8,000 acres and is 0 percent contained, according to the Ventura County Fire Department.
The Woolsey Fire jumped Highway 101, prompting the closure of the highway in both directions at Liberty Canyon. The blaze has also damaged or destroyed a significant number of structures, fire officials said.
There are currently evacuation orders affecting about 75,000 homes in Ventura and Los Angeles counties as a result of the Woolsey Fire.
Strong winds and dry conditions are helping fuel the Ventura County fires. The causes of the blazes are unclear.
Cal Lutheran University in Thousand Oaks is closed Friday. Evacuation orders are also affecting other Southern California institutions.
Additionally, the Woolsey Fire was reportedly burning close to the Santa Susana Field Laboratory, a site near Simi Valley where, over the course of several decades, rocket engines and nuclear reactors were tested.