Armed man robs Rabobank in Grover Beach
December 8, 2018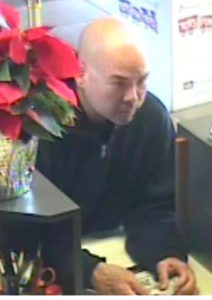 A bald man who made no attempt to hide his identity robbed the Rabobank in Grover Beach on Friday and has since managed to evade capture. [Cal Coast Times]
At 11:33 a.m., the robber entered the Rabobank branch on Grand Avenue and demanded money from a teller while brandishing a handgun, according to the Grover Beach Police Department. The teller handed the robber an undisclosed amount of cash, who then fled the bank driving away in a blue Infinity sedan.
Police describe the robber as an Asian male in his mid-20s to mid-30s who was wearing a black sweatshirt, BDU style pants and black and white tennis shoes.
Investigators request that anyone who has information about the robbery contact Detective Nelida Aceves at (805) 473-4511, via e-mail at nacaves@gbpd.org or Officer Sonny Lopez at slopez@gbpd.org.