Nipomo man arrested for Santa Maria courthouse arson
February 21, 2023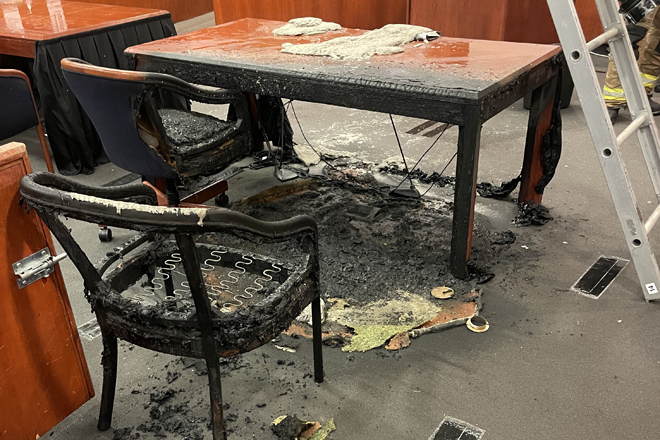 By JOSH FRIEDMAN
A Nipomo man allegedly broke into the Santa Maria courthouse Saturday night and started a fire that led to more than $500,000 worth of water damage.
Eric Spies, 31, had been ordered to appear at a court hearing in March. Then on Saturday night, he went to the court complex allegedly to determine where he would need to appear for his hearing.
A security guard ordered Spies to leave, but instead Spies broke two glass doors at the entrance to the criminal court building and went inside. Spies then forced his way into the Department 8 courtroom, where he lit the defense attorney's chair on fire. 
The fire spread to a table and carpet inside the courtroom, melted the ceiling lights in and triggered the sprinkler system. 
Officers arrested Spies and booked him in the Santa Barbara County Norther Branch Jail with his bail set at $75,000.
The sprinklers extinguished the fire, but they released enough water to destroy the courtroom. The water was two inches deep in some parts of the courtroom.
Water released from the sprinklers destroyed computers and audio-visual systems. The water also spread into adjacent holding cells and leaked into the basement where court files were stored.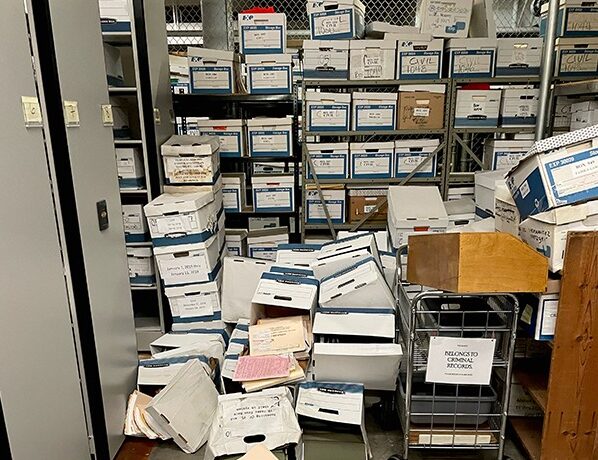 Following the incident, crews began ripping out furniture, carpet and cabinetry. Officials will keep items removed from the courthouse in storage units. Workers from a preservation company will freeze dry documents and create digital images of them.
Repairs to the courthouse are expected to take about one year.