Crews search Santa Maria water basin for missing man
March 16, 2023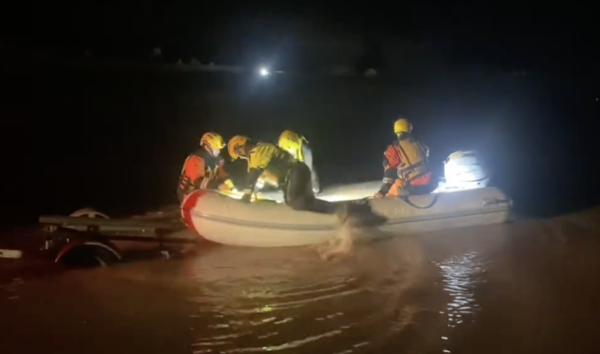 By Josh Friedman
Rescue crews are searching for a man who went missing after possibly entering a water catchment basin in Santa Maria Tuesday night.
Shortly before 11 p.m., a 911 caller reported her acquaintance, 32-year-old David Navarro, could not be located. The caller said Navarro entered the fenced off area surrounding a flood control reservoir near Blosser Road and Canal Street, according to the Santa Maria Police Department. 
Officers arrived at the scene and were told Navarro had not been seen entering the water. However, officers later recovered what they believe to be Navarro's jacket from the water in the same general area.
Through the early morning hours, Santa Maria police officers and firefighters, along with the Santa Barbara County Fire Search and Rescue Team, conducted an extensive search for Navarro. They searched the immediate and surrounding area using a rescue boat, utility vehicle, drones and thermal imaging tools. 
Eventually, Santa Maria police detectives arrived, took over the investigation and continued search efforts. Detectives canvassed the area and, when it was light outside on Wednesday, used a drone team to search for Navarro.
Likewise, a CHP helicopter crew conducted an extensive search of the surrounding area, including all flood channels. 
As of around mid-day Wednesday, crews had only found what they believe to be Navarro's jacket. 
Santa Maria police requested help with underwater search efforts from the San Luis Obispo County Sheriff's Office Search and Rescue Team. The Santa Maria Police Department is working with the SLO County Sheriff's Office on coordinating an underwater search of the reservoir.
Authorities ask anyone who has information that could assist the search effort to call the Santa Maria Police Department at (805) 928-3781 ext. 2277.