San Luis Obispo's illogical transportation agenda
March 28, 2023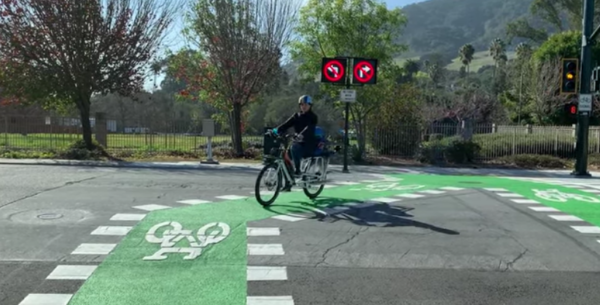 Opinion by KEN HERRMANN
Celebration missed? Don't worry, you didn't miss much.
Just in case you missed it, there was a celebration and ribbon cutting for the street work that has been done around San Luis Obispo in the past year or so. If you are not interested in such a celebration do not fret, as there were enough people there patting each other on the back for the atrocities they are forcing on us.
This is not Chico, Santa Barbara or Disneyland or any other place that has done something new, or first, but someone wishes to make it so, to appease their boredom, their resume', the "authority" of their position or squeaky wheel special interest groups.
I think the best part of the entire celebration was when a motorized skateboard went down the street, in the middle of the street, going the wrong way, and none of the five public official's, including the chief, appeared to notice.
Recent changes to traffic conditions in SLO also appear not to be justified by any firm metrics. Yes, the two bikers that we lost recently were mentioned and their loss is not to be minimized, but these street changes had little to do with them for the planning was started before their loss.
Contacting the city about these changes, as I did in Dec. 2021, you will most likely get a response that the changes are "based on best practice design guidance" from various governmental agencies but you will not find, upon study of those resources, that the city is choosing the best designs or guidance.
In fact, the National Association of City Transportation Officials (NACTO) "Urban Bikeway Design Guide," says conventional bike lanes, "increases bicyclist comfort and confidence on busy streets, creates separation between bicyclists and automobiles, increases predictability of bicyclist and motorist positioning and interaction, increases total capacities of streets carrying mixed bicycle and motor vehicle traffic, visually reminds motorists of bicyclists right to the street."
In other words, what we had was good.
But, in examples of design hypocrisy, for greater safety and visibility, cars have been directed, with painted lines, to approach High street from Buchon, Islay and Teft Streets at right angles while on Marsh and Higuera Streets bicycles have been moved into inescapable channels, and away from visible mirror range, to be in the blind spots of right turning vehicles.
When considering pedestrian safety: Pedestrians on sidewalks are now much more aware of bicycle traffic for bike racks have been moved to just the right position to force handle bars into clothes, elbows and children's faces. The transportation committee has also considered allowing bike riding on sidewalks.
Everyone has experienced the insanity of two separate traffic ways to cross, or access parked vehicles on Marsh and Higuera streets. Have you also walked or ridden through the Froom Ranch / LOVR and Dalidio / Madonna Road intersections? There are valid reasons the Vehicle Code has bikes share the road with vehicles and not pedestrians. Note: I ride my bike to Home Depot.
The city continues to promote electric vehicle usage so "E bikes," which, like mopeds, are motor vehicles, are joining pedaled bikes in the bikeways to get around town while signage along Madonna Road properly say, "No Motor Vehicles"?
So far the environmental damage and slavery resulting from the mining and disposal of the new mineral battery technologies in Electric Vehicles (EV's) is of little concern.
Do you remember how we used to sneak five cars into the front of the Post Office on Marsh Street?
The city now says we can only park three, but in January the mayor said that reduced street parking is why we are getting a new parking structure.
So, the new parking structure will be to: 1) replace street parking, 2) support city decisions to greatly reduce off-street parking requirements, or their mitigations, for private developers. (Is that why 550 Higuera, a thirty unit property, was allowed no off-street parking?) 3) set aside general parking for electric vehicles only, and 4) donate space for a theater complex.
So how do we address the general parking deficit we face from an increased population?
It is expected that visitors to the city will not need parking, and will travel by means other than private vehicles.
Of note: This last summer the city increased the parking metering hours by one-third and increased, and will again increase, the hourly rates reportedly to recoup a loss of $4.1 million dollars due to COVID. This fee increase is important for the city can now give $3.9 million to the theater group to take up space in the to-be-built parking structure, and also to support creditors income requirements.
The good side of these street changes? In an attempt to support lower-cost housing the city planned separated bike lanes, along the North Chorro and Broad street bike corridor, will depress property values in the effected areas following the loss of on-street parking and more competitive parking in the neighboring streets. Compensation for the loss of property value should be a possibility. Ask the city, it likes spending our money.
Overall the city administration has done an admirable job of diving into the public's pockets to change the city in significant ways without utilizing quieter streets for bike routes, PSAs for reminders of California Vehicle Code road rules, and relying on citizen responsibility and intelligence to work together on our roadways, as in past years.
Ultimately, an important point to remember is that Vehicle Codes say bicycles have rights to the roadways, especially if other routes are busy with pedestrians or other perceived hazards. It is up to motor vehicles and bike riders to move defensively and watch for, and protect each other, including when the city has removed, or suggests, other routes.
P.S. The snacks at the party were rather generic. You didn't miss much.
If you would like a critical and technical response to the city's transportation mistakes, ask the City Council for a copy of my letter to them dated Jan. 7, 2022. Or my piece in CCN dated January 18, 2022. T. Keith Gurney also has good points.
Ken Herrmann has been a pedestrian, bicyclist and a commercial driver around SLO for over 40 years and has spent 35 years in boots-on-the-ground public service, which he left in disgust.