SLO County hit with road closures, flash flood warnings – Updates
March 10, 2023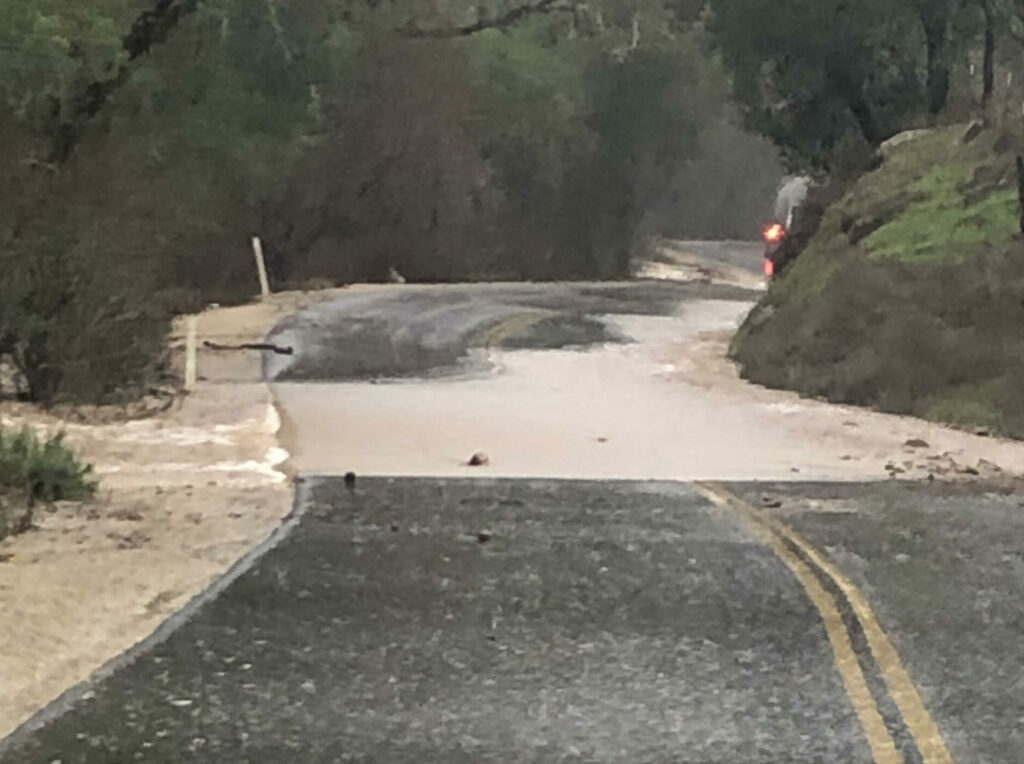 By KAREN VELIE
Update: All flash flood warnings in San Luis Obispo County have been lifted and most roads have reopened.
Heavy rainfall and wind in San Luis Obispo County resulted in flash flood warnings, downed trees and road closures Thursday night and Friday morning.
Over the past 24 hours, between 2.5 and 8.31 inches of rain has fallen on Cambria, San Simeon, Harmony and Lake Nacimiento areas, which were placed under flash flood warnings early Friday morning. Rocky Butte near San Simeon received 8.31 inches and Cambria received 3.28 inches and according to county rainfall data.
Shortly after 7 a.m., the flash flood warning was expanded to include San Luis Obispo, Morro Bay, Pismo Beach, Atascadero, Arroyo Grande, Nipomo, Grover Beach, Highway 101 over Cuesta Grade, Santa Margarita, Lake Lopez, Oceano, Avila Beach, Templeton, and Cayucos.
"This is a dangerous and life threatening situation," according to the National Weather Service. "Do not attempt to travel unless you are fleeing an area subject to flooding or under and evaluation order."
Road closures and hazards with updates:
Corbett Canyon Road closed from Tiffany Ranch to Arroyo Grande
K Street flooded at 15th Street in San Miguel, remains open
Quintana Road closed from South Bay Boulevard to Highway 1
Highway 101 southbound at Highway 58 flooded, remains open
Windsor Boulevard closed in Cambria
Main Street Cambria flooded, remains open
Tree down on Bradford Road in Cambria
Electric line down at I Street and Murphy Avenue in Santa Margarita
Old Creek Road between Highway 46 and Highway 1
Booker Road closed at Las Tablas Road
Avila Beach Drive closed at San Luis Bay Drive
22nd Street closed at Nipomo Street
Highway 1 at the elephant seals
Bethel Road closed at Donelson Place
Chimney Rock Road closed at Fawn Lane
Lower State Park Road closed at South Bay Boulevard
San Luis Bay Drive closed from Highway 101 to Monte Road
Tank Farm Road closed from Long Street to Broad Street
Los Osos Valley Road closed from Froom Ranch Way to Calle Joaquin
Huasna Road closed at Sparks Trail
Hausna Townsite road closed at bridge one
Hi Mountain Road closed at Lopez Drive
Upper Lopez Canyon Road closed
Los Palos Road closed at Santa Barbara Road
Santa Rita Road closed at the 9000 block
Stage Coach Road closed from TV Tower Road to end of road
Aliso Park Road closed at Foothill Road
Division Street closed from Riverside Road to Las Flores Drive
Creston Road closed from Neal Springs Road to Cripple Creek
Penman Springs Road closed from 685 to 808
San Marcos Road closed from Wellsona Road to Nacimiento Lake Drive
Highway 1 closed from Ragged Point Inn to Deetjen's Big Sur Inn
Intersection at Marsh and Higuera streets in SLO closed
State Route 58 closed at Seven Mile Road
Avelanes Ranch Road closed at Pozo Road
Shell Creek Road closed