Copenhagen mayor asks Solvang to embrace LGBT community
April 19, 2023
By JOSH FRIEDMAN
The mayor of Copenhagen, Denmark penned a letter to the mayor of Solvang criticizing the Danish-styled Santa Barbara County city over its handling of LGBT issues and urging local officials to embrace the Santa Ynez Valley's queer community.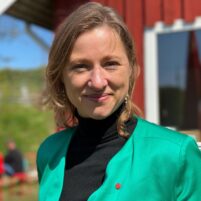 Last year, vandals pulled down, stole and burned a pride flag that had been on display at a Santa Ynez Valley church located in Los Olivos. Earlier this year, the Solvang City Council rejected an application by an LGBT community organization  to hang banners and paint crosswalks in celebration of Pride Month. Solvang Mayor Mark Infanti cast one of the three votes against the proposal.
Copenhagen Lord Mayor Sophie Hæstorp Andersen recently wrote a letter addressed to Infanti that criticized the council's decision.
"I was surprised to read about the opposition from some of your council members to ideas put forward by your LGBTI+ community for Solvang to embrace Santa Ynez Valley Pride publicly and visibly," Andersen wrote. "I was also shocked to read of the burning of pride flags shortly after pride events last summer. This opposition to pride does not reflect the genuine warmth and acceptance of pride that can be seen across Denmark and especially in Copenhagen."
Andersen stated Solvang rightly cherishes the status of "the Danish capital of America." But, Denmark has a longstanding position as one of the most progressive countries in the world, and Copenhagen Pride has taken place every year sine 1996. 
"In the spirit of friendship between between our cities, I urge you to give Santa Ynez Valley Pride and your local LGBTI+ community the support of your city council, in the same way that the municipality of Copenhagen wholeheartedly supports Copenhagen Pride for the benefit of all Copenhageners, and to show the world that respect and acceptance are vital elements in a modern, welcoming society."
Copenhagen and Solvang should come together for love, equality and human rights, Andersen concluded.