Alleged drunk driver flees after hitting fire hydrant in SLO, video
May 6, 2023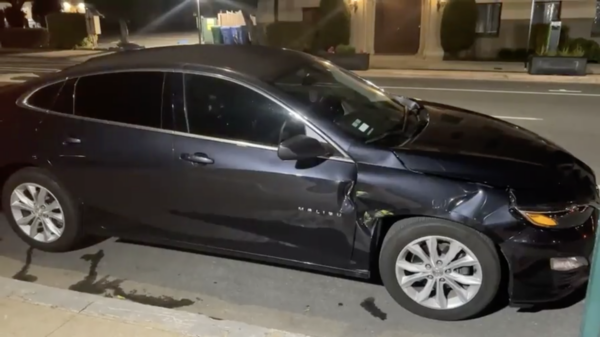 By KAREN VELIE
An alleged drunk driver crashed into a fire hydrant in San Luis Obispo early Saturday morning before fleeing the scene. The vehicle was later found, along with a group of men who had been drinking downtown, though no one was arrested.
Shortly after midnight, a driver hit the hydrant at the intersection of Chorro and Marsh streets, and then fled the scene. When a reporter asked about the accident, one officer joked that a bicyclist on an electric bike had hit the hydrant.
Reporter Josh Friedman then spoke with a witness who saw the crash from inside Eureka. The witness described the vehicle as a dark colored sedan that turned off Chorro Street onto Marsh Street, headed in the wrong direction. The driver then hit the hydrant.
The driver briefly stopped before fleeing the scene, the witness said.
Shortly before 3 a.m., Friedman spotted a tow truck driver preparing to tow a dark colored Chevrolet Malibu that was parked a couple blocks from the scene of the crash. The car was facing the wrong direction.
The Malibu had significant damage to the front right side, with what appeared to be yellow paint smears. Fresh vomit was lying on the street next to the driver's side door.
A white SUV with a woman and three men told the tow truck driver the dark Malibu belonged to them. Officers arrived, one of whom questioned the woman and the three men.
The owners of the car claimed it had been stolen, and none of them were the driver. However, one of the men appeared intoxicated. He was shaking his head and cursing.
After claiming they did not have the keys to the Malibu, one of the men handed the keys to the tow truck driver.
An officer told the group they would review surveillance videos to determine who was driving the car. That person would then face hit and run charges. The officer then let the woman and the three men drive away.