Vehicle crashed into tree near Paso Robles
June 15, 2023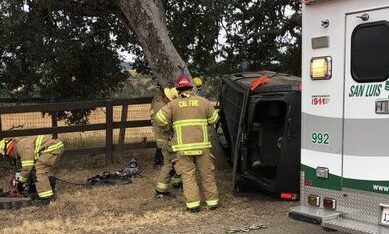 By JOSH FRIEDMAN
Firefighters extricated the driver from a vehicle that slammed into a tree north of Paso Robles Thursday morning. 
Shortly after 8 a.m., a caller reported the dark-colored vehicle crashed into a tree and rolled over near the 1800 block of San Marcos Road. The person extricated from the vehicle suffered moderate injuries, according to Cal Fire.
An ambulance came out to the scene, along with other emergency vehicles. Authorities also called for a tow truck, according to the CHP.
It is unclear what caused the driver to crash into the tree.