Victim airlifted to hospital after shooting in Guadalupe
June 26, 2023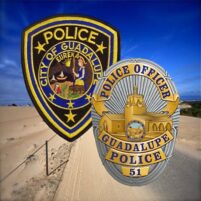 By JOSH FRIEDMAN
A helicopter airlifted a person to a hospital who was wounded in an apparent gang-related shooting in Guadalupe on Saturday. [KSBY]
Shortly before 11 p.m., a caller reported a shooting in the 200 block of Pioneer Street. The male victim, whose age and condition have not been disclosed, suffered multiple bullet wounds.
Surveillance footage from the area shows a dark-colored car pull up to a curb and, shortly afterwards, speed away as multiple shots were fired. 
Guadalupe Police Chief Michael Cash said investigators have yet to locate the vehicle. Officers have not recovered any weapons, either. 
Investigators believe the shooting was gang related.