SLO parking rates double, procedures change
July 1, 2023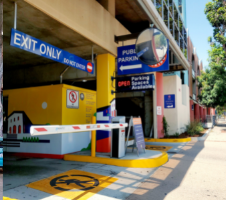 By KAREN VELIE
Parking rates in downtown San Luis Obispo doubled effective today, while those parking in the structure at 842 Palm Street now need to pay up front for parking.
Last June, the SLO City Council voted unanimously to double downtown parking rates, effective July 2023, with  plans to build a fourth parking structure. Two-hour street parking in the main downtown core today increased from $2 an hour to $4 per hour while parking in structures rose from $1.50 an hour to $3 per hour.
The city also eliminated its first-hour-free component to parking structure rates effective today. After the public complained, the city instituted a park local program that allows county residents to still get a free hour, as long as they register with the city.
In addition to rate increases, the city is launching its new gateless technology at public parking structures downtown, starting with the historic Chinatown structure at 842 Palm Street. Customers are now required to estimate the time they will be downtown, and pay up front.
The city photographs license plate numbers as vehicles enter the structure. Customers can then either pay at one of the structure's pay stations or through an app.
Additionally, the city has increased parking and standing fines:
Non-paid or expired parking tickets to increase from $40 to $45.
Standing, stopping, or parking within intersection tickets to increase from $40 to $60.
Standing, stopping, or parking on the roadside of a vehicle stopped, parked, or standing at the curb tickets to increase from $33 to $60.