Trash piling up at Fort Hunter Liggett, contract issues
August 27, 2023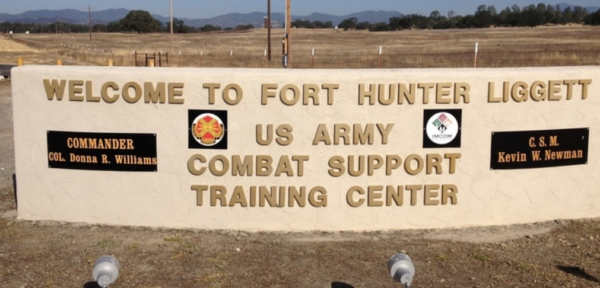 By KAREN VELIE
Household trash is piling up at an Army base on the south side of Monterey County after the base contracted with a garbage company that does not have the equipment needed to remove the rubbish.
Hundreds of people who live at Fort Hunter Liggett are now tossing their trash bags in the tennis courts while base administrators remain mum on what it is doing with the trash created by the troops temporarily training at the base. About a decade ago, when this last occurred, animals scattered trash around the base leading to a smelly health hazard.
As is standard practice every five years, in July base officials asked garbage companies to bid on its contract. On July 25, the base awarded the contract to the lowest bidder without first checking that the company had the equipment needed to do the job.
Five years earlier, the base awarded the contract to Mid State Solid Waste and Recycling in Templeton after inspecting the companies trucks, trash containers and employee records. In 2023, Mid State again bid the job, but lost out to Zero Waste Solutions.
On Aug. 1, Mid State removed their trash cans and dumpsters from the base.
Zero Waste Solutions then asked Mid State and several other companies to subcontract the job, which the companies declined even though Zero Waste Solutions explained they were not planning to provide individual containers to each of the more than 80 housing units. Instead, they planned to provide large roll off shared dumpsters.
Mid State then filed a formal protest, as the award winner was not offering the same scope of work — individual trashcans.
Since Aug. 1, no one is picking up the trash.
Base officials are working for a "swift resolution" to the disruption in trash service, according to a press release.
"Mitigations are in place for residents and tenant activities to bring their refuse to a centrally located and secure area for collection," according to the press release. "To date, there has been no impact to operations, training, or health and welfare of the civilians and military members who live and work on the installation."