SLO County supervisors argue over Proposition 13 protections
September 13, 2023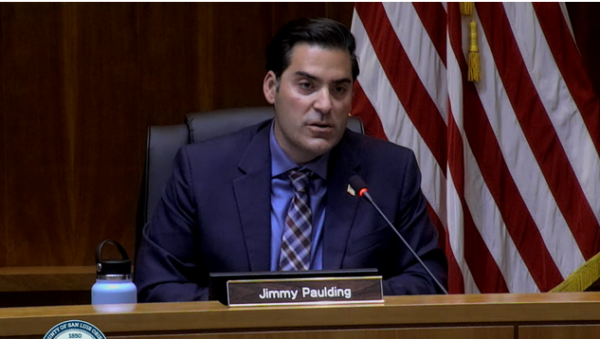 By KAREN VELIE
The San Luis Obispo County Board of Supervisors voted 3-2 on Tuesday to no longer support the two-thirds majority vote to raise taxes in its state legislative platform, while arguing over the meaning of Proposition 13.
Before the supervisors discussed the proposed changes, 20 members of the public asked the board to support the Proposition 13 taxpayer protections listed as platform items 14 and 15. In addition, several speakers accused supervisors Bruce Gibson and Jimmy Paulding of bullying Supervisor Dawn Ortiz-Legg to vote in lockstep with them.
Gibson voiced his support of taking both taxpayer protections off the platform, while accidentally referring to one as item 13. Gibson argued that lowering the votes necessary to raise taxes to a simple majority was more democratic.
Before discussing the issues, Paulding chastised community members for what he determined was uncivil behavior. During public comment, multiple people criticized Paulding for wanting to raise taxes and fees while many members of the community are having trouble paying their bills.
Noting he is a strong supporter of Proposition 13, Paulding made a conflicting motion which included removing support for the two-thirds majority vote required to raise taxes (which is part of Proposition 13), while also including a statement against any modification of Proposition 13.
Supervisor Debbie Arnold then informed Paulding that Proposition 13 not only protects the public from property tax increases of more than 2% a year, it also includes language requiring a two-thirds majority vote to raise taxes.
Paulding argued that his motion didn't "remotely touch Proposition 13."
Ortiz-Legg said she supported eliminating the two-thirds vote required to raise taxes because of funding needed for infrastructure. However, she suggested a rewording of Paulding's motion to remove the conflicting content.
Instead of addressing her concern, Gibson chastised Ortiz-Legg for referring to item 15 as item 14, and she dropped her request.
Gibson, Paulding and Ortiz-Legg than voted in favor of Paulding's motion. Peschong voted "Hell no," and Arnold said, "The biggest no I have ever given." Paulding's motion passed 3-2.