Morro Bay considering ordinance addressing shopping cart theft
November 13, 2023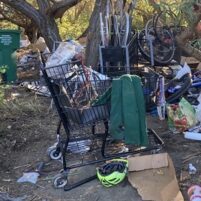 By KAREN VELIE
In an attempt to clean up the nuisances stolen and abandoned shopping carts create, the Morro Bay City Council is looking to adopt an ordinance requiring stores to manage their carts, according to the Nov. 14 agenda.
City staff is recommending the council adopt an ordinance that places primary responsibility for retrieving stolen and abandoned carts on business owners. If passed, the ordinance will require store owners to mark each cart with a warning that it is illegal to take carts along with the store's name, address and phone number.
In addition, store owners will need to secure their carts when the store is closed and to produce an annual abandoned shopping cart prevention plan.
If police officers find an abandoned cart, they will inform store staff about the cart. Store staff will then have 72 hours to collect the cart. Failure to retrieve the cart within three days will lead to a $50 fine.
"The overall objective of this ordinance is to establish a foundation with the retail industry to ensure that the abandoned shopping cart prevention plan is responsive to the needs of the community for a clean and safe environment," according to the staff report.