Morro Bay radio station driven off air by tower collapse
November 21, 2023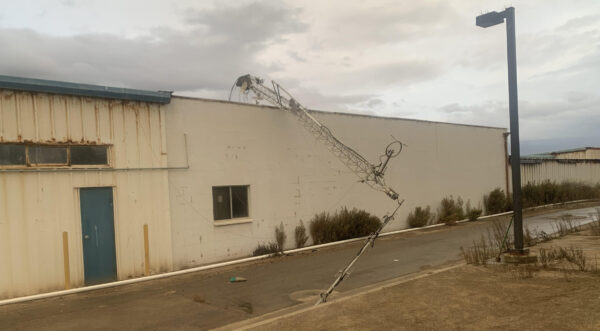 By JOSH FRIEDMAN
A wind storm knocked down the the tower that hosts the antenna of Morro Bay's Rock Community Radio, or KEBF, forcing the station off the air last week. 
KEBF, which had been on air in Morro Bay on 97.3 FM, is a nonprofit, noncommercial radio station operated and run by residents of Morro Bay, Los Osos and Cayucos. On Nov. 15, coastal winds toppled the city-owned Morro Bay tower.
Station volunteers are now searching for a replacement tower on which they can mount the antenna. The station says options are limited within Morro Bay, and it is requesting donations from the public. 
"We run on a skeleton budget with over 40 volunteers, all great neighbors and community members," The Rock founder Hal Abrams said in a statement. "This is a very unexpected and unfortunate turn of events. Finding a new tower in the Morro Bay city limits is not an easy task."
Rock Community Radio says it ties neighbors together and connects the Central Coast with hyperlocal, community-based FM radio. KEBF ironically provides the Morro Bay area with emergency alert announcements, such as ones during the wind storm that collapsed the tower, the station says.
Station volunteers ask that community members learn more and help at centralcoastradio.org.