Central Coast bandit gets 20 years in prison
January 16, 2015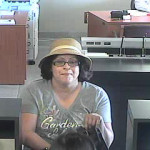 A 50-year-old Watsonville woman who garnered the title of the Central Coast Bandit will receive a 20-year prison sentence, according to the San Luis Obispo County District Attorney's Office.
Cristina Fernandez Padila robbed six banks in three counties over an eight-month span that began on New Year's Eve in 2012. Her luck ran out when an employee of a San Luis Obispo Golden 1 Credit Union recognized her on August 23, 2013.
A police chase ensued from San Luis Obispo to Paso Robles, where Padilla crashed her car. Along the way, she picked up a charge of assault with a deadly weapon — her car.
Padilla initially pleaded not guilty to numerous charges, but the district attorney's office announced Thursday that it had reached a plea agreement. The mother-turned-bandit copped to four counts of robbery and one count each of attempted robbery, second-degree commercial burglary, evading a peace officer and assault with a deadly weapon.
She will receive a 16-year sentence in San Luis Obispo County, where the majority of the robberies occurred. Padilla is expected to receive a pair of two-year sentences from Monterey and Stanislaus counties.
In 2005, Padilla also received a first-degree burglary conviction in Monterey County.
Her formal sentencing in San Luis Obispo Superior Court will take place on March 3 before Judge John Trice. She will have additional sentencing hearings in Monterey and Stanislaus counties.