Citizen supplants state, city in graffiti removal
January 30, 2015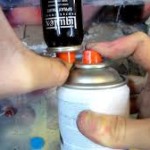 The combined efforts of San Luis Obispo police, state transportation workers and Union Pacific personnel did not prove necessary for the removal of graffiti from a railroad bridge in San Luis Obispo. [Tribune]
Police say a concerned citizen likely painted over graffiti that had greeted southbound drivers on Highway 101 for the past two weeks. In doing so, the person probably trespassed, but officers will not search for a suspect, police Lt. Bill Proll said.
On or around Jan. 13, a vandal painted the letters "UOME" on the Union Pacific Bridge over Highway 101 near California Boulevard. The vandal has not been caught, and the message of the graffiti is not entirely clear, but "UOME" is often slang for "you owe me."
Since the graffiti was located on Union Pacific property, city workers were not legally allowed to access it. If workers were to paint over it from a truck below, they would have to get Caltrans permission, and it would require the temporary closure of at least one lane of the highway.
Caltrans committed to help, and a Union Pacific spokesman said the railroad was in discussions with both agencies. But, the graffiti disappeared late Wednesday night or early Thursday morning.
Proll said someone likely trespassed onto the railroad property and leaned over the side with a paint roller, risking falling or dropping an object on a car below. Still, he is glad it is done, the lieutenant said.