Customers dine, snatch and dash in Santa Maria
January 7, 2015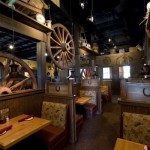 A coupled opted not to pay for their dinner at a popular Santa Maria steakhouse Monday night, choosing instead to demand payment from the restaurant. [KEYT]
Shortly before Cool Hand Luke's steakhouse closed, a man and woman called the restaurant manager to their table, where they had just finished eating. The customers then told the manager to do what they said and no one would get hurt, restaurant owner Scott Van Pelt said.
Surveillance cameras caught the alleged robbers with the female manager in the back office of the restaurant, where cash changed hands. No weapon appeared on the surveillance tape, but Van Pelt said he believed the robbers threatened the woman with a gun or other weapon during the holdup.
The manager did not suffer any injuries, though.
The suspects escaped the restaurant with stolen cash and additional food that they ordered to go. Video footage showed them driving off in a waiting car.
Santa Maria police are still searching for the robbers, whom they describe as Hispanic. Police are asking for help from the public in identifying the robbers and are taking anonymous tips at (805) 928-3781.