Illegal painters target Santa Barbara newspaper
January 9, 2015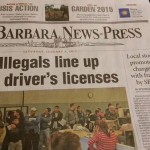 The Santa Barbara News-Press offices became a target this week for protesters and vandals who objected to the newspaper's use of the word "illegals" in a front-page headline.
On Saturday, the News-Press published a headline stating, "Illegals line up for driver's licenses." The headline referred to long lines that had begun to form at the California Department of Motor Vehicles following the implementation of a law allowing illegal immigrants to apply for driver's licenses.
Critics responded to the headline with an online petition calling for a retraction, and on Thursday, graffiti appeared on the News-Press building and nearby sidewalks. Vandals painted "fight back" and "the border is illegal not the people who cross it" next to the News-Press office entrance. [KEYT]
They also fired paintballs at the building. The damage totaled nearly $1,500, according to Santa Barbara Police.
Officers have not yet caught any suspects. They say the amount of damage to the building and sidewalks could amount to a felony.
On Thursday night, about 100 protesters gathered outside the News-Press offices. Demonstrators threatened to return on Jan. 19 if the newspaper did not issue a retraction or make a change in editorial policy.
Earlier in the day, News-Press Director of News Operations Don Katich released a statement defending the use of the word "illegals" in the headline and saying it appropriately describes people who are in the country illegally.
"You have to look no further than the White House website to see the term 'illegal' used when describing the 2,000,000 illegal immigrants President Obama has deported since taking office for being in the U.S. illegally," Katich said in the statement."
The vandalism of the News-Press office followed a fatal attack on the offices of a French satirical magazine by less than one day. Gunmen opened fire at the Charlie Hebdo offices in Paris on Wednesday, killing 12 people and injuring several others, in apparent revenge for the publication's satirical depiction of the Islamic prophet Muhammad.
Many individuals and governments across the world, in turn, have rushed to the defense of freedom of the press over the past two days. While the protest against the News-Press was occurring, other demonstrations were taking place in honor of the murdered Charlie Hebdo journalists.