Morro Bay home badly burned in fire
January 10, 2015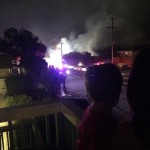 A fire severely damaged a Morro Bay house Wednesday evening after flames shot up as high as 35 feet. [KSBY]
The fire displaced an elderly woman, who attempted to save her home by putting out the fire herself. She did not succeed in doing so, but managed to escape the burning house uninjured.
Fire crews from Morro Bay, Los Osos and Cayucos responded to the blaze in the 2500 block of Greenwood Avenue. Fire officials evacuated seven neighboring homes, but firefighters kept the blaze from spreading to other houses.
The cause of the fire is not yet known. It remains under investigation.