Fatal roll-over accident near Pozo
February 22, 2015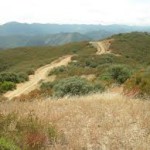 One person was killed in a Sunday morning crash near Pozo, according to the California Highway Patrol.
Shortly after 1 a.m., a dodge truck rolled more than 100 feet off Hi Mountain Lookout Road near the High Mountain Campground. It took emergency personnel several hours to reach the truck.
At 4:03 a.m., CHP determined the 22-year-old passenger was deceased and contacted the San Luis Obispo County Coroner. Officers arrested the driver, 18-year-old Paul Kravtsov of Arroyo Grande, for felony driving under the influence.
The county coroner was unable to handle the recovery, according to the CHP.
A coroner's truck from Santa Maria was then dispatched to assist multiple agencies that had responded to the scene. The investigation is ongoing.