Former KSBY anchor Rick Martel dies
February 18, 2015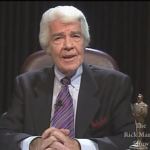 Longtime San Luis Obispo County broadcaster and performer Rick Martel died Tuesday. He was 83-years-old.
Martel, who had been suffering from poor health for the past few years, spent 15 years as an anchor at San Luis Obispo television news station KSBY.
The longtime anchor characterized himself as more of a personality than a journalist. Martel worked as a singer during his early years in the Air Force, as well as in Hollywood and later in San Luis Obispo County nightclubs.
Born in Kansas City, Martel worked in broadcasting in San Diego and had the opportunity to move into the Chicago market, but opted instead to move to San Luis Obispo County. He made that decision after visiting in-laws in Morro Bay.
Martel left KSBY amid a contract dispute as News Corp boss Rupert Murdoch's daughter, Elisabeth Murdoch, briefly took over the station. Martel quickly found work at KCOY, but he lasted a little more than a year at the rival news broadcaster.
He then settled in as a late-night entertainer in the county and the host of The Rick Martel Show, which aired three nights a week on Charter Cable.
"I have never, ever, dreaded going to work, and that's the way it should be," Martel once said on his cable television show.
In 2013, tragedy struck Martel; his 23-year-old granddaughter, Ashley Martel, died of a heroin overdose.
She was pregnant with her first child at the time. Rick Martel was very fond of his granddaughter, and he told KSBY that she was the apple of his eye.
Martel leaves behind a host of family and friends.