Proposed groundwater regulations will affect all residents
February 22, 2015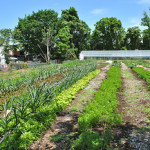 OPINION By LARRY and SUSAN MCGOURTY
If you live in a city in San Luis Obispo County or live in the rural county and grow fruits and vegetables for family and friends and think the permanent water offsets and groundwater basin regulation proposals coming before the Board of Supervisors is not your fight, think again. If implemented county-wide as proposed, it will limit your food choices and devastate agriculture as we know it in San Luis Obispo County.
Small family farms are not large water users or wasters. Through farmer markets, farm to table programs, and sales to local supermarkets, they are a vital resource to our county by growing safe, fresh, and high quality food for the residents of our urban communities. In a time of civil unrest overseas and labor disputes threatening the overseas food supply chain, the Board of Supervisors should be doing all it can to encourage more local food production.
The proposed water offset program does exactly the opposite.
If you want to discourage something, first step is to regulate it. The offset regulation freezes ag lands in farmable areas -i.e. the groundwater basins of our county, to what exists now. It will result in no more additional farmland being put into production. If a farmer wants to farm new land he or she must first purchase a water offset from an existing farmer who in turn will then have to fallow their productive land and take it out of production permanently. This is an insane policy, wasteful of a precious resource.
Because of the prohibition of putting additional ag land into production and a limited number of offsets available, competition will be fierce with an inevitable rise in offset costs.
The cost of purchasing an offset will be prohibitive to a small start-up produce farmer and hinder an established farmer who needs to rotate his crops to match seasonal and public demand. Only the large vineyards with deep pockets will able to purchase offsets, further increasing the large irrigated vineyard monoculture, the cause of most of our local water problems to begin with.
The Board of Supervisors claim they must do the offset program to be complaint with the Pavley-Dickenson Sustainable Groundwater Management Act (SGMA). Fine, we all agree that encouraging sustainable practices is a good thing and is in everyone's best interest, but it can be done in a way compliant with SGMA and not devastate local agriculture. If you live in a city and use a farm to table program or shop at farmers markets, contact your supervisor and ask they reconsider this poorly thought out approach and take more time to study the proposal to insure it does not hurt both the small family farms who feed our county and the families they help feed.
Even rural residents of the county with non-commercial home gardens are not exempt from regulation. Under these proposals you will be paying the county a fee for the privilege of pumping water to grow your own food. Residential users who extract less than 3 percent of the total groundwater are not the cause of local groundwater problems and don't need heavy handed regulation.
Contact your supervisor and ask that he or she adopts in any new local regulation, the Pavley Dickenson exclusion for di minimis users, that is water users who extract less than of two acre feet of water per year for domestic purposes (by way of contrast, a typical large irrigated commercial vineyard uses hundreds of acre feet of water per year). It's already in the law and is fully compliant with SGMA.
Larry and Susan McGourty publish an online Central Coast food, wine and recipe website and are enthusiastic supporters of home grown produce, our local farmers markets and the farmers who run them.
Don't miss links to breaking news stories, like CalCoastNews on Facebook.