Airline cuts flights from SLO airport in half
March 13, 2015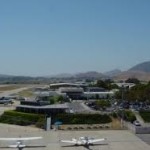 By KAREN VELIE
The breadth of SkyWest Airlines' changes at the San Luis Obispo Airport became a lot clearer this week with the airline cutting the number of flights coming into and out of the airport by more than half.
SkyWest Airlines is downsizing it daily flights leaving San Luis Obispo from 11 a day to five a day. Beginning on April 7, there will be only two trips a day from San Luis Obispo to San Francisco and three to Los Angeles.
A month ago, Avila Beach resident Saro Rizzo booked a flight for his family's summer vacation from San Luis Obispo to Milan, Italy. The Rizzos were slated to leave SLO at 5:11 p.m. for a 7:05 p.m. connection to Europe. However, the airline has since rerouted the family because of its flight reductions.
"I was notified last week by United Airlines that my fight was changed and that I must now fly from San Luis Obispo to Los Angeles at 2:15 p.m. and then take another plane from Los Angeles to San Francisco at 4:45 p.m. in order to make my 7:05 p.m. connection to Europe," Rizzo said. "Basically, it adds one more flight and roughly three hours to my trip with a 5 year old and a toddler."
With the new changes, come less options for travelers. For example, a traveler wanting to leave San Luis Obispo in the morning and connect through Los Angeles for other travel destinations will no longer have a 7:45 a.m. and 8:30 a.m. departure option available as the earliest morning departure for Los Angeles will be at 10:40 a.m.
Headed to San Francisco, your only options from the San Luis Obispo Airport will be at 6:20 a.m. or 8:35 p.m.
In November, SkyWest Airlines announced it was replacing all its 30-seat turboprop aircrafts with 50-seat regional jets. The airline said the change would, ""improve SkyWest's overall efficiency and long-term profitability."
For the past several years, the airport has struggled with financial challenges at the facility, where revenue has been falling since 2005.
Since 2010, airport management has been working to relocate and expand the airport's existing passenger terminal.
In July, the San Luis Obispo County Board of Supervisors voted 5-0 to approve the overall design for a new airport terminal.
The new terminal is estimated to cost between $27 million and $29 million. Of that, about $18 million will be garnered through grants, $7 million from the county and $4.7 million from customer facility charges, which are acquired through the rental car operations at the airport.