Is ISIS targeting the SLO marathon?
March 10, 2015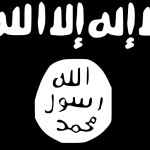 The black and white flag of ISIS made a prominent appearance on the San Luis Obispo Marathon website over the weekend. [KSBY]
Slomarathon.com was one of several U.S. websites hacked by someone claiming to be an affiliate of the Islamic fundamentalism group based in Iraq and Syria. The sequence of hacks spread to Europe by Sunday night.
Federal investigators are currently examining the hacks, an FBI representative said. But, the FBI has not yet determined whether ISIS actually hacked the sites or the operation was a hoax.
Site administrators shut down the San Luis Obispo marathon site for maintenance on Sunday. The site was again operating on Monday.
Marathon event director Heather Hellman said the hack shocked her, but she guaranteed that everyone who attends the race would be safe and secure.
In 2013, a bombing occurred that Boston Marathon, killing three spectators and injuring more than 200 others. Hellman said her team implemented security measures in response to the bombing.
This year's San Luis Obispo Marathon is scheduled for April 26.