SLO's sex offender on Craigslist dodges prison stint
March 10, 2015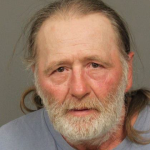 A registered sex offender who used Craigslist to solicit sex with underage women in San Luis Obispo received a six-month jail sentence after accepting a plea deal on Monday.
Robert George Roe, 55, pleaded no contest to a single felony charge of arranging a meeting with a minor for lewd purposes, according to a San Luis Obispo County District Attorney's Office press release. Roe faced a second felony charge and a possible state prison sentence prior to accepting the plea agreement.
Last week, police found Roe naked in a San Luis Obispo hotel room where he was waiting for a 16-year-old girl to arrive. A police detective posing as a teenage girl seeking sex arranged the encounter with Roe.
The female detective called Roe on his cell phone in response to an ad he posted on Craigslist that asked "young girls" to meet for sex. Roe included a photo of his genitals in the Craigslist ad.
Roe's plea deal places him on formal probation and requires him to register as a sex offender. He is already a registered sex offender in Arizona.
In 1987, Roe was convicted of molesting a minor in Arizona, according to San Luis Obispo police.
Roe is scheduled to appear in court for a formal sentencing hearing on April 6.