Paso Robles murder suspect pleads not guilty
March 19, 2015
A Paso Robles man said he acted in self-defense when he shot and killed an "intruder" Saturday morning.
Thomas Yanaga, 52, plead not guilty to murder and an enhancement for causing great bodily injury with a firearm on Wednesday. His attorney, Ilan Funke-Bilu, said Yanaga was protecting his family when he shot Marshall Savoy, 32, of Atascadero.
But Assistant District Attorney Lee Cunningham, who reviewed the evidence, said the shooting appears to be murder, not self-defense.
Witnesses at the rural Paso robles home also tell very different stories. At the time of the shooting, Thomas Yanaga, his wife Joyce Yanaga, Thomas Yanaga's 17-year-old son, Savoy's friend Ashley Moss, 25, and Savoy were on the property. However, the teenager never left his room.
After Thomas Yanaga shot Savoy multiple times in the abdomen and chest, Joyce Yanaga called 911 and said her husband had shot an intruder.
Sheriff deputies arrived shortly after midnight and found Savoy's bullet ridden body in the driveway.
Yanaga told deputies that he was in the garage smoking with his wife when Savoy intruded and demanded his car keys. Yanaga said he begged Savoy to leave his home, but Savoy charged at him in the kitchen. Yanaga told police he did not mean to shoot Savoy. [Tribune]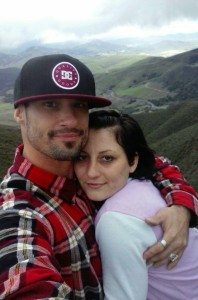 Joyce and Thomas Yanaga told deputies Moss lived in a fifth-wheeler on the property.
Moss tells a very different story.
Moss said she moved into a spare room in the Yanagas' home a week before the shooting. She says she was not living in the fifth-wheeler, though she and Savoy were in the trailer talking on Friday night when they heard the Yanagas get into a heated argument.
Moss said Yanaga was attempting to get the pair to stop fighting when Yanaga went into the kitchen, put a magazine into his gun, yelled for Savoy to look at him, and then shot him repeatedly. Moss said Yanaga then asked his wife to call 911 and say Savoy was an intruder.
After the shooting, Savoy walked out of the garage and collapsed on the driveway in front of Moss. Afraid for her life, Moss said she hid near the back door.
After a while, Moss entered the home unnoticed by officers and went into her room to sleep, she said. In the morning, Moss said she spoke with deputies who were still at the house and explained that she had witnessed the shooting.
Yanaga is being held without bail at the San Luis Obispo County Jail.
Don't miss breaking news stories, like CCN on Facebook.