Don't make a stink in SLO
March 19, 2015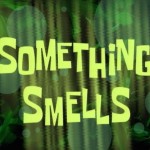 The San Luis Obispo City Council majority plans to ban foul odors that creep across property lines. [New Times]
Mayor Jan Marx, Councilman John Ashbaugh and Councilwoman Carlyn Christianson voted in favor of the proposed "odor nuisance" ordinance at Tuesday's council meeting. The proposal will become a city ordinance if a majority of the council approves it again at an upcoming meeting.
Over the past couple years, city staffers have received complaints about an undesirable scent emanating a from medical marijuana grow in the backyard of a San Luis Obispo home. When the council failed to adopt a proposed medical marijuana ban, staff responded by drafting the foul odor ordinance.
If adopted, the ordinance will mandate that city staff receive three verified complaints from neighboring property owners before deeming an odor a public nuisance. Once the city determines that an odor is a public nuisance, code enforcers can issue citations to the property owner.
Councilmen Dan Carpenter and Dan Rivoire cast the two dissenting votes. Carpenter said the ordinance will be a nightmare to enforce, and Rivoire said neighbors should be able to resolve odor issues among themselves.
Marx said the ordinance will help the community get along better.