Ex-Cal Poly football player pleads in frat robbery case
April 23, 2015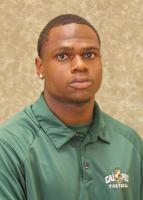 One of the five former Cal Poly football players accused of attempting to rob a fraternity house last year has accepted a plea deal that will keep him out of jail. [Tribune]
Cortland Josiah Fort, whom prosecutors accused of being the getaway driver, pleaded guilty to a single felony of conspiracy to commit grand theft. The plea agreement calls for him to serve three years of formal probation and complete 1,000 hours of community service.
Fort, 21, faced 11 felonies for his alleged participation in the August 2014 incident during which another member of the football team allegedly carried a gun onto the property and engaged in a physical struggle with both fraternity members and police. Officers arrested Fort after they found him driving away from the fraternity house in a rental car with his lights off and the cell phones of other Cal Poly players in the vehicle.
Prior to the plea deal, Fort's attorney, Chris Casciola maintained that his client was completely innocent. Casciola told CalCoastNews last year that Fort had just arrived in town two weeks prior to the attempted robbery, and at the time, he did not know any of the co-defendants by name.
Fort was the only sober person at a party on the night of the incident, and he was asked to drive the others, Casciola said.
After reaching the plea deal with prosecutors, Casciola said Fort has a bright future. The defense attorney also said that his client is a good student with no previous criminal history, and he deserves a chance to play football again.
Deputy District Attorney Eric Dobroth said Fort's degree of involvement in the crime did not warrant significant jail time. Dobroth also said that community service would allow Fort to continue his academic and athletic careers.
After his arrest, Fort moved to Riverside County and played a season as a defensive back for Riverside City College. Fort is originally from Fontana.
The remaining four defendants in the case still face several felony charges.
Cameron Akins, 20, is the man accused of brandishing the gun at the fraternity house. Akins allegedly had an unloaded .38-caliber derringer-style pistol and pointed it at fraternity members while demanding cash and marijuana.
A month after the incident, police arrested Gear McMillan, the former president of the fraternity, for selling marijuana. Earlier this year, McMillan, 22, pleaded no contest to possession of marijuana for sale.