Fire breaks out in SLO creek
April 29, 2015
A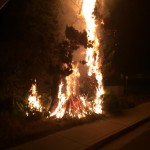 fire erupted in a San Luis Obispo creekbed next to Santa Rosa Street early Wednesday morning.
Firefighters responded to the blaze shortly after midnight. Flames shot several feet into the air and approached the street, but firefighters contained it to just an area of vegetation, according to the San Luis Obispo Fire Department.
No one suffered any injuries during the fire. Officials have not yet determined the cause of the blaze.
The fire remains under investigation.