Off-roading accident victim's names released
April 20, 2015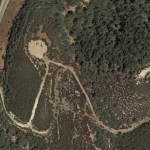 Five men, three from San Luis Obispo, were four-wheeling Saturday morning on sandy trails between Highway 101 and Fort Hunter Liggett in Monterey County when the narrow path they were on gave way and their Jeep rolled more than 600 feet down a steep ravine.
The California Highway patrol said Andrew Joseph Kruep, 25, from Orinda was the driver. He died Saturday night.
Krueps passengers were Darren Thomas Mullen, 25, Sean Ross Mullen, 22, and Myles Andrew Franklin, 21, all from San Luis Obispo and Spencer N. Blodgett, 24, from Lafayette. Al four passengers suffered severe injuries, said California Highway Patrol Public Information Officer Mike Rigby.
Franklin and brothers Sean and Darren Mullen are currently in fair condition at Community Regional Medical Center in Fresno, according to a hospital spokesperson. Blodgett was treated and released.
An earlier source related to another responding agency said all five men went to Cal Poly. A Cal Poly spokesperson said none of the victims are Cal Poly students.
About 1:50 a.m., one of the men called 911 from his cell phone. Emergency crews from the California Highway Patrol, Cal Fire and Fort Hunter Liggett responded.
It took more than four hours for emergency crews to reach the victims because of a lack of light and rough terrain. During the night, Kruep passed away.