Out on bail, Paso Robles man arrested for attempted murder
April 15, 2015
By KAREN VELIE
UPDATE: Thomas Yanaga of Paso Robles was one of three men arrested on attempted murder charges for a shooting Tuesday morning in Hanford.
As part of a follow up on last months Paso Robles shooting, San Luis Obispo County Sheriff's detectives  served search warrants on three homes in Paso Robles on Wednesday.
ORIGINAL: The Paso Robles man charged with shooting and killing an Atascadero man last month was arrested Tuesday for attempted murder in Kings County.
On March 14, Thomas Yanaga, 52, shot Marshall Savoy, 32, of Atascadero three times in the chest. Yanaga plead not guilty to murder on March 18 claiming he shot and killed Savoy in self-defense.
On April 8, Yanaga posted $1 million bail and was released from the San Luis Obispo County Jail.
Six days later, King's County Sheriff deputies arrested Yanga for attempted murder, for participating in a street gang, for committing a new offense while on bail, and for having a new felony.
On April 14 at 7:44 a.m., deputies booked Yanaga into the Kings County Jail with bail set at $675,000.
Yanaga's San Luis Obispo attorney, Ilan Funke-Bilu, said Yanaga was protecting his family when he shot Savoy.
Witnesses at the rural Paso Robles home tell very different stories. At the time of the shooting, Thomas Yanaga, his wife Joyce Yanaga, Thomas Yanaga's 17-year-old son, Savoy's friend Ashley Moss, 25, and Savoy were on the property.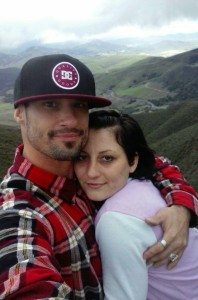 Yanaga told deputies that he was in the garage smoking with his wife when Savoy intruded and demanded his car keys. Yanaga said he begged Savoy to leave his home, but Savoy charged at him in the kitchen. Yanaga told police he did not mean to shoot Savoy.
Moss tells a very different story.
Moss said Savoy was attempting to get the pair to stop fighting when Yanaga went into the kitchen, put a magazine into his gun, yelled for Savoy to look at him, and then shot him repeatedly.
After the shooting, Savoy walked out of the garage and collapsed on the driveway in front of Moss. Afraid for her life, Moss said she hid near the back door.
On April 2, Moss testified that Savoy was attempting to intervene in an argument between Yanaga and his wife when Yanaga shot and killed Savoy. During her testimony, Moss became agitated and said she found the process traumatizing.
On April 3, Moss did not show up at court for her second day of testimony.
San Luis Obispo County Superior Court Judge John Trice then delayed the hearing until April 20, to allow prosecutors time to contact Moss.
Don't miss breaking news stories, like CCN on Facebook.