Pismo Beach dispatchers shed their desk jobs
April 24, 2015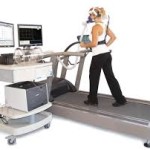 Pismo Beach police dispatchers are now taking work in stride. [KEYT]
Police Chief Jake Miller has given the okay to a plan to place a treadmill in the Pismo Beach police dispatch center. Dispatchers approached Miller with the request, citing medical studies that show sitting in a chair for hours at a time increases health problems.
Dispatchers sometimes work 10 to 12-hour shifts. One dispatcher says her health has already improved due to the treadmill.
Elvia Ramos said her knee problems improved significantly after just one week on the treadmill at work. Walking also helps dispatchers think better, Ramos said.
Miller said his dispatchers seem more peppy now. He said he has noticed a change in their physical and mental health.
The treadmill moves at a pace of two miles per hour. It took a day to install.