Coast Guard busts 3 smugglers off San Simeon
May 24, 2015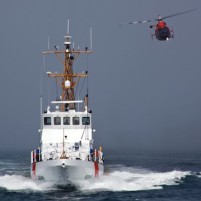 U.S. Coast Guard crews disrupted an apparent drug smuggling operation off San Simeon on Tuesday, according to a press release.
During a routine patrol, a Coast Guard aircrew spotted a suspicious panga-type vessel about 30 miles from the shore. While the aircrew watched, the suspected smugglers began jettisoning items into the water.
The crew of the Coast Guard Cutter Pike intercepted the panga and took three people into custody. They were brought ashore by another Coast Guard boat and turned over to Homeland Security Investigators.
"Teamwork and vigilance are the keys to stopping illegal activity along our coastal border," said Capt. Gregory Burg, chief of response operations for the 11th Coast Guard District. "I'm proud of the keen actions of the aviators and sailors who detected and intercepted this panga."
The Coast Guard is asking all coastal residents, visitors and boaters to report any suspicious activity or objects discovered at sea or along the shore by calling 911 or the Coast Guard with a VHF-FM marine-band radio.
"Our crews, the maritime community and the public can all contribute to stopping the efforts of transnational criminal organizations behind illegal smuggling through vigilance and quick reporting of suspicious activity," Burg said.