Raised eyebrows over Pemberton brothers SLO project
May 7, 2015
By KAREN VELIE
A pair of developers whose prior business deals resulted in claims of fraud and a bankruptcy with $1.4 million in unpaid wages, debts and charity pledges that were never fulfilled have started looking for investors in a project in downtown San Luis Obispo.
Jeremy and Joshua Pemberton, twin brothers, have begun to solicit investors in their project to turn the site of the San Luis Obispo Sports Authority into a bowling alley, restaurant and performance site for live music. The goal is to open in late 2015.
The business plan summary for the project lists Copeland Properties and Jamestown Properties as partners with a commitment to contribute $2 million of the roughly $5 million that the Pembertons say the project will cost.
Owners of restaurants in San Luis Obispo have raised eyebrows over the $5 million cost of the downtown project saying that the amount is much more than should be needed. The owners say that providing an adequate return on that much of an investment is not likely to happen.
The restaurant owners are especially wary considering the Pemberton brothers' history in Santa Barbara.
In mid-2007, the Pembertons created Twiin Productions with a goal of producing live shows in Santa Barbara County. The Pembertons were able to attract several large investors and well know promoters to work with them and support them.
However, within a short time the company was accused of failing to pay its bills and follow city rules and regulations. By mid-2010, the Pembertons were battling a lawsuit from concert promoter Jacalyn Kane, a former partner, for fraud, breach of contract and 11 other causes of action.
In 2010, the City of Santa Barbara denied the Pembertons' application for a permit to hold a three-day concert based on complaints city staff made about the Pembertons' 2009 West Beach Music and Arts Festival.
"Unfortunately, the 2009 Festival was marred by a number of problems as a result of poor event management by Twiin Productions and a lack of city policies and regulations related to events of this size and scope," a June 2010 council agenda read.
Santa Barbara city staffers reported a number of problems with the Pembertons' 2009 Music and Arts festival. Twiin Productions failed to pay bills to the city for increased police presence, bounced a check to the city and failed to follow permit requirements and city rules, said Santa Barbara Parks and Recreation Director Nancy Rapp.
Twiin Productions also made up counterfeit Waterfront Parking VIP permits which were used by the organizers and some of their vendors, Rapp said.
"They said, 'So sorry about the permits it was someone in our organization,' but it is still fraud," Rapp said.
Jeremy Pemberton said he did not agree with all of the city's claims about Twiin Productions.
"There was a lot of inaccurate information," Jeremy Pemberton said in response to the city's allegations of theft and fraud. When asked to be more exact, he said, "You can't battle a city so we moved on to Ventura and now San Luis Obispo. You just move on."
In the end, Santa Barbara permitted Twiin Productions to do a smaller two-day event in Sept. of 2010.
In Nov. 2010, Twiin Productions filed bankruptcy claiming $9,750 in assets and $1,431,201 in liabilities including unpaid wages to employees, clothing expenses, dry-cleaning bills, jewelry store debt and money owed to non-profits.
In a press release emailed shortly after they filed bankruptcy, the Pembertons' attorney Joshua Lynn blamed the City of Santa Barbara for creating so many "unprecedented and inconsistent governmental and bureaucratic obstacles" that the Pembertons were unable to succeed.
Jeremy Pemberton's Linkedin page includes claims that non-profits including the Westside Girls and Boys Club were beneficiaries of Twiin Production events.
However, the bookkeeper for the Westside Girls and Boy Club said that neither the Pembertons nor Twiin Productions has ever donated to the club.
Jeremy Pemberton later explained that Twiin Productions permitted a group of young people involved with the Westside Girls and Boys Club to work the event and did not charge them an entry fee. As such, the entry fees were a donation, he said.
Jeremy and Joshua Pemberton promoted several charity events to help the victims of a handful of Santa Barbara County fires. Sources said the twins failed to pay several charities and bounced checks to other charities. The bankruptcy notes $6,500 owed to Firefighters Quest, a charity that provides relief to burn victims.
Jeremy Pemberton said the bounced checks and debt to Firefighters Quest happened five years ago and that he could not remember.
Several years after filing the bankruptcy over their Santa Barbara enterprise, the Pemberton brothers raised $2.8 million for Discovery Ventura, a bowling alley, restaurant entertainment venue they opened in Jan. 2014. In order to fund the project, the brothers secured money from almost 30 investors. Jeremy Pemberton said the brothers have already began sending interest payments to their investors, though he refused to disclose the percentages.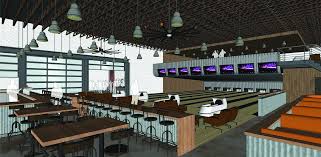 Plans for the $5 million Discovery San Luis Obispo entertainment center include a 14-lane bowling alley, a restaurant and a bar and banquet area.
In their Discovery San Luis Obispo business plan summary, the Pembertons calculate that 35 percent of revenue will come from bar sales and 24 percent from food sales. But new restaurants and bars in San Luis Obispo are required to have a split of at least 50 percent food sales in comparison to alcohol sales.
Jeremy Pemberton said he is aware of the 50 percent food rule. He said that the revenue figures in the San Luis Obispo business plan summary are different from what will occur when they are required to follow "specific conditions."
The Pembertons are slated to bring their plans before the San Luis Obispo Planning Commission this summer. The brothers already have filed for a conditional-use permit to allow alcohol to be served past 11 p.m. at the 24,500-square-foot space located on the corner of Chorro and Marsh streets.
Discovery SLO Business Plan – Executive Summary by CalCoastNews
Get links to local news stories, like CCN on Facebook.