Salinas mothers found guilty of torturing girl
May 17, 2015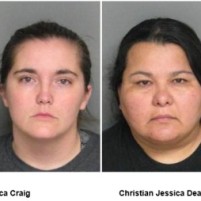 A Monterey County jury found two Salinas women guilty Friday of torturing, starving, and chaining an 8-year-old girl inside their home. [Monterey Herald]
In March 2014, Monterey County Sheriff's deputies discovered the 8-year-old girl who weighed just 40 pounds and was covered in bruises inside the home of Christian Jessica Deanda, 45, and her girlfriend Eraca Dawn Craig, 32. The girl's 7-year-old brother and the 4-year-old son of Craig also lived in the home.The women had guardianship of the two older siblings.
The women often kept the girl chained to a wall by a collar on her neck. When the girl would wet herself, the women would have the boys urinate on her and beat her with a belt.
Former Monterey County Sheriff Scott Miller said the child abuse case was one of the worst he had ever encountered.
On Friday, the jury of six men and six women found Deanda guilty of 16 counts, including torture, false imprisonment, and child abuse with starvation enhancements. Craig was convicted on six counts, including child abuse.
Deanda is facing life in prison while Craig is facing 11 years of incarceration.