Algal bloom reaches record levels
June 28, 2015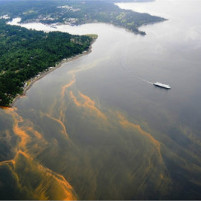 A harmful algal bloom that runs from the Central Coast of California to Washington State, has reached an unprecedented size. The concentrations of domoic acid appear to be the highest ever recorded along California's Central Coast. [Santa Cruz Sentinel]
As a result, officials are warning people not to eat recreationally harvested mussels and clams, commercially caught anchovies and sardines, or the internal organs of commercially or recreationally caught crab taken from the waters off Monterey and Santa Cruz counties.
Oregon has closed the entire coast to clamming and the northern Oregon coast to shellfish harvesting.
Its not completely clear yet whether there is a connection between this and the warm water offshore. UCSC oceanographers are attempting to find links between warming ocean temperatures and the massive harmful algal bloom.