Legislation proposed to bar PG&E from utilizing tax deductions to cover penalty
June 28, 2015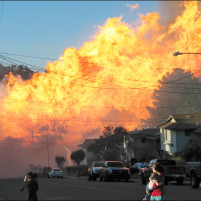 If proposed legislation is passed, PG&E will not be able to harvest a tax windfall from state authorities by taking a tax deduction for a $1.6 billion penalty because of its negligence in a fatal explosion in San Bruno. [Contra Costa Times]
In April, the state Public Utilities Commission imposed a $1.6 billion penalty against PG&E for its role in the explosion which killed eight people. The penalty requires PG&E shareholders to pay $850 million for gas system safety improvements, the company to refund $400 million to gas customers, and PG&E to pay a $300 million fine to the state.
State Sen. Jerry Hill and state Assemblyman Kevin Mullin, both of San Mateo County, co-authored SB 681.
The $1.6 billion penalty is heavily weighted towards safety improvements, but it is open to interpretation about whether PG&E can claim state and federal tax deductions.
"This should eliminate the ambiguity," Sen. Hill said. "Our legislation will save $115 million for state taxpayers."