Alleged Cuesta College data thief accused of spousal battery
June 30, 2015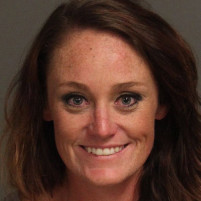 Prosecutors allege a Cuesta College employee, who is accused of breaching the campus data system, also committed battery against her husband and participated in a drug operation with him. [Tribune]
Lacey Fowler, 29, already faces a felony count of illegally accessing computer data. Last week, prosecutors tacked on drug charges, as well as a charge of misdemeanor battery on a spouse.
Fowler is currently on leave from her position as a human resources analyst at Cuesta College. On May 31, Fowler allegedly breached the campus data system remotely and sent employee names, home addresses, phone numbers and social security numbers to her private email account.
When investigators served a search warrant at Fowler's home, they found 4.5 pounds of methamphetamine and approximately 7 ounces of heroin. The drugs have a combined value of about $27,000.
Sheriff's deputies arrested Fowler's husband, Chad Fowler, earlier this month and charged him with possession of heroin and methamphetamine for sale, with an enhancement for possessing more than one kilo of meth. On Thursday, the San Luis Obispo County District Attorney's Office filed similar charges against Lacey Fowler.
Two days prior, prosecutors added misdemeanor drug and paraphernalia possession charges for an offense Lacey Fowler allegedly committed one day before the data breach.
The district attorney's office filed the spousal battery charge during the previous week. The battery incident allegedly occurred on June 5, the same day that court records state Fowler allegedly violated a restraining order her husband filed against her.
Lacey Fowler has a long criminal history that includes an alcohol related reckless driving incident in 2005, drunk driving in Aug. 2006, a DUI in Nov. 2006, a drug paraphernalia conviction in 2007 and an arrest in 2007 for felony burglary and forgery. The 2007 felony charges were reduced to misdemeanors and then expunged in Nov. 2011.
Cuesta College hired Fowler as a temporary employee in 2008 and promoted her to a full time position in 2013.
Both Lacey and Chad Fowler are currently out of jail awaiting arraignments. Lacey Fowler is due to be arraigned on July 6, and Chad Fowler has a continued arraignment hearing scheduled for July 13.