Cal Poly's explanation of St Fratty's Day released
June 11, 2015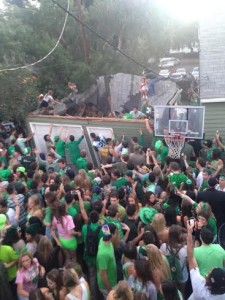 Cal Poly has released a report detailing the findings of a university investigation into the March 7 "St. Fratty's Day" party that led to a roof collapsing and eight students suffering injuries.
The St. Fratty's Day concept began about six years ago when a former Cal Poly student and fraternity member who was living at the "Pink House" created the event, according to the report. The Pink House is the home located at 348 Hathaway Avenue where the March 7 party occurred.
In years since the initial party, residents at the house maintained the tradition. This year, residents of the Pink House invited 20 to 30 people for a "bring-your-own-beer" party scheduled to begin at 6:30 a.m. on Saturday March 7, according to the report.
But, information about the party spread by word of mouth, text message and social media. The gathering kicked off at 4:30 a.m., and more than 1,000 students joined the party by the time the roof collapsed around 6 a.m.
"Many students suggested that social media applications such as Twitter, Yik Yak, Instagram and Snapchat contributed to the large gathering," the report states.
The Cal Poly probe, which was conducted in part by an external investigator, concludes that no specific Greek organization facilitated the party. The report does state that members of Greek organizations participated in the event.
All Cal Poly Greek organizations were on social probation at the time and prohibited from hosting parties.
As previously reported in the media, the Cal Poly report states that university officials and San Luis Obispo police were caught off guard by the party, even though they were warned ahead of time that the party would take place. Two days prior to the party, a fraternity president sent an email to Cal Poly officials informing them that a party would take place that weekend.
Cal Poly  officials passed the information on to the university police department. University police then contacted SLOPD to coordinate staffing, review information and collaborate on preparations, the report states.
"No one anticipated that the social gathering would begin on Saturday morning, March 7, at 4:30 a.m.," the report states. "The email information received from the fraternity president did not contain that information."