Cuesta College closes small pool because of leaks
June 17, 2015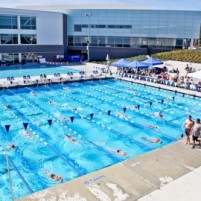 Cuesta College announced Wednesday it is closing its small 60,000 gallon pool to make emergency safety repairs to the pool lining.
The small pool will be closed indefinitely, Cuesta College officials said in a press release. The unplanned repairs have led to the cancellation of 270 classes taken by 606 patrons, the press release said.
The announcement was made less than a week after CalCoastNews reported the campus used more than 35,000 gallons of water a day in the first quarter of 2015 than in the first quarter of 2014. A family of three in San Luis Obispo uses an average of 5,200 gallons a month.
Last week, Cuesta College Director of Facilities Terry Reese said the campus has been aware that both campus pools have been leaking for about six months. Even so, Reese said the pool liners would not be repaired until December.
Reese also said he did not know if cracks in the lining are contributing to the water loss and that in about three years, the goal is to replace both the 650,000 gallon pool and the 65,000 gallon pool.