Fire burns 320 acres near Lompoc
June 30, 2015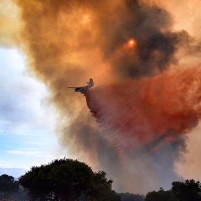 A wildfire erupted in the hills near Lompoc on Monday and burned 320 acres. [KEYT]
The fire broke out just before 1:30 p.m. in the Mission Hills area north of Lompoc. The blaze threatened the La Purisima Mission, but it did not end up damaging the property.
Santa Barbara County fire officials said Tuesday morning that the fire is 75 percent contained. Fire investigators are searching for one or two individuals, most likely juveniles, who may have a connection to the blaze.
The individual or individuals were on a hiking trail behind the water treatment plant when the fire began. Fire officials say the cause of the wildfire remains under investigation.
The fire spread near homes, but it has not burned any structures. One firefighter has reportedly suffered an injury.
On Monday, the Santa Barbara County Sheriff's Office issued evacuation orders that affected approximately 1,200 residents. The evacuation orders have been lifted, as of Tuesday morning.
Authorities also evacuated animals from the area. Livestock, and other large animals were taken to the Elks Rodeo grounds in Santa Maria, and residents were asked to take small animals to the Lompoc animal shelter.
Fire agencies from San Luis Obispo County, including Cal Fire and the San Luis Obispo Fire Department, are helping Santa Barbara County firefighters battle the blaze. The San Luis Obispo County Fire Department say it sent three airtankers, in addition to fire teams, engines and dozers.
Santa Barbara County fire officials request that anyone who has information about the fire or was in the area around the time it started call the tip line at (805) 686-5074.