Rattlesnakes attack Northern California toddlers
June 11, 2015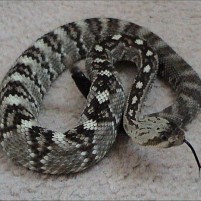 Two Northern California toddlers have suffered rattlesnake bites in the past week, and veterinarians are warning state residents that the drought is bringing the venomous snakes closer to humans. [ABC 7]
Two-year-old Ishneed Kaur was bitten Tuesday night while playing in the backyard of her Pittsburg home. The snake unexpectedly attacked and bit her in the foot, Kaur's grandfather said.
A helicopter airlifted Kaur to the hospital after fire crews arrived. Kaur is currently in stable condition at the intensive care unit of the Children's Hospital in Oakland. Doctors are optimistic she will go home soon.
Over the weekend, a rattlesnake bit 4-year-old Vinny Caramazza while he was walking on a Folsom bike trail. The toddler's mother, Jaclyn Caramazza, then tried to suck the venom out of her son's foot.
"The mama bear instinct in me decided to suck the venom out because apparently that's what Bonanza does," Jaclyn Caramazza said.
Jaclyn Caramazza is currently nine months pregnant. Luckily, the venom did not spread to her or her unborn son. The pregnant mother is now instructing other mothers to call 911 right away and not attempt to suck out the venom, if their children are ever bitten by rattlesnakes.
After trying to suck out the venom, Jaclyn Caramazza rushed her son to the hospital. Vinny Caramazza spent two days at the hospital and then returned home to finish recovering.
A rattlesnake also made a recent appearance in the yard of a Walnut Creek resident.
Veterinarians say Californians may see more rattlesnakes this summer, particularly near water sources. Animals are being more concentrated around the water sources, wildlife veterinarian Guthrum Purdin said.