Bicyclists find decomposing body near Santa Maria
July 12, 2015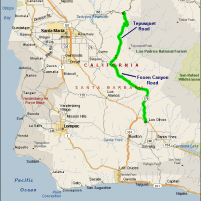 A group of bicyclists riding in Tepusquet Canyon east of Santa Maria on Sunday called law enforcement after discovering human remains in the canyon. [Noozhawk]
Santa Barbara County Sheriff deputies arrived to find a body that has been decomposing "for quite some time." Deputies are working to determine if the death was the result of a crime.
"Our patrol personnel responded to the location and confirmed this involved human remains," Bonner told Noozhawk. "The cause of death was not readily apparent based upon the initial observations of our patrol personnel.
Further details were not available.